Vol 8 (2020): Learning, Competencies and Human Resources
EMEMITALIA2019 Peer Reviewed Papers
Uno strumento online di tipo aperto per supportare la condivisione di pratiche nel settore infermieristico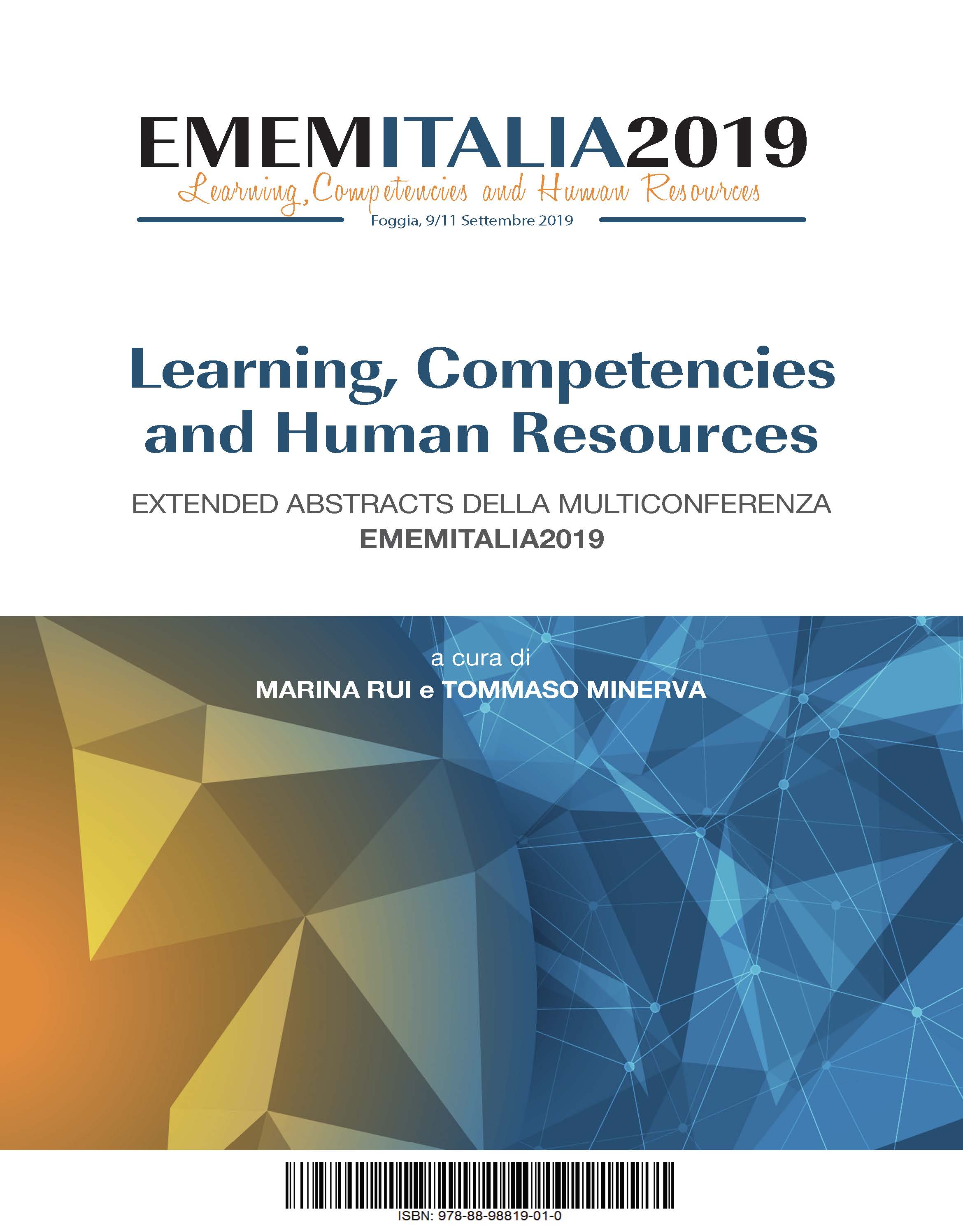 Published
October 31, 2019
Keywords
Formazione infermieristica

,

Blended learning

,

Active learning

,

Self-regulated learning

,

Gamification
How to Cite
Manganello, F., Vassilakis, K., Papadakis, N., & Pozzi, F. (2019). Uno strumento online di tipo aperto per supportare la condivisione di pratiche nel settore infermieristico. Reports on E-Learning, Media and Education Meetings, 8(1), 1-7. Retrieved from https://www.je-lks.org/ojs/index.php/R-EMEM/article/view/1135083
Copyright (c) 2019 Reports on E-learning, Media and Education Meetings
This work is licensed under a Creative Commons Attribution-NonCommercial-ShareAlike 4.0 International License.
Abstract
Questo contributo presenta il framework concettuale dell'Open Online Tool, uno strumento basato sull'integrazione di Moodle e Mahara, pensato per supportare la condivisione di pratiche nel settore infermieristico e sviluppato nell'ambito del progetto ENhANCE. Il modello formativo che ispira l'OOT propone un approccio misto (blended) che si fonda su quattro elementi caratterizzanti: apprendimento attivo e collaborativo, auto-regolazione dell'apprendimento, gamification e continuità tra apprendimenti formali, non formali e informali. Nell'ambito di tale approccio, le componenti pedagogica e tecnologica alla base dell'OOT agiscono sinergicamente per valorizzare le dimensioni della conoscenza disciplinare legata all'agire professionale dell'infermiere in formazione. In particolare, allo scopo di promuovere in modo "gamificato" comportamenti di auto-regolazione dell'apprendimento tra gli infermieri, sono stati implementati due plugin ad hoc: My 4Cs Dashboard e Nurse Sally's 4Cs Dashboard. Una prima sperimentazione dell'OOT è prevista nell'ambito di un percorso e-learning internazionale con destinatari insegnanti e formatori coinvolti nella formazione di infermieri, nel periodo maggio-luglio 2019. Il testing e la validazione dello strumento consentiranno di verificarne l'efficacia a fronte degli obiettivi di progettazione.
References
Alvino, S., Dagnino, F., Mazzarino, B., Sistini, C., Evangelidou, E.S., Daglas, A., Vitola, A., Kleisiaris, C., Turunen, H., Azimarad, M., Kamel, N., Diab, M., Oertel, L., Pozzi, F., Manganello, F., Romagnoli, M., Roba, I., Bagnasco, A., Zanini, M., Catania, G., Aleo, G., Papathanasiou, I.V., Fradelos, E.C., Kastanidou, S., Garani, G., Tsaras, K., Papagiannis, D. (2019). FCN European Curriculum – first release. ENhANCE Project Deliverable D3.1.1. URL: https://www.enhance-fcn.eu/download/2861/
Amandu, G. M., Muliira, J. K., & Fronda, D. C. (2013). Using moodle e-learning platform to foster student self-directed learning: Experiences with utilization of the software in undergraduate nursing courses in a Middle Eastern university. Procedia-Social and Behavioral Sciences, 93, 677-683.
Anderson, V., & Reid, K. (2012). Students' perception of a problem‐based learning scenario in dental nurse education. European Journal of Dental Education, 16(4), 218-223.
Anthony, G. (1996). Active learning in a constructivist framework. Educational studies in mathematics, 31(4), 349-369.
D'Souza, M. S., Karkada, S. N., & Castro, R. (2014). Exploring e-learning among nurse educators in undergraduate nursing. Journal of Nursing Education and Practice, 4(7), 74-84.
Day-Black, C. (2015). Gamification: An Innovative Teaching-Learning Strategy for the Digital Nursing Students in a Community Health Nursing Course. ABNF Journal, 26(4).
Gonçalves, M. B. B., Rabeh, S. A. N., & Terçariol, C. A. S. (2015). The contribution of distance learning to the knowledge of nursing lecturers regarding assessment of chronic wounds. Revista latino-americana de enfermagem, 23(1), 122-129.
González Hernando, C., Carbonero Martín, M. Á., Lara Ortega, F., & Martín Villamor, P. (2014). Nursing students' satisfaction in Problem-Based Learning. Enfermería Global, 13(3), 97-103.
Huizenga, J., Admiraal, W., Akkerman, S., & Dam, G. T. (2009). Mobile game‐based learning in secondary education: engagement, motivation and learning in a mobile city game. Journal of Computer Assisted Learning, 25(4), 332-344.
Kapur, M. (2010). Productive failure in mathematical problem solving. Instructional Science, 38(6), 523-550.
Mackavey, C., & Cron, S. (2019). Innovative strategies: Increased engagement and synthesis in online advanced practice nursing education. Nurse Education Today, 47(8), 372-375.
Margolis, H., & McCabe, P. P. (2003). Self-efficacy: A key to improving the motivation of struggling learners. Preventing School Failure: Alternative Education for Children and Youth, 47(4), 162-169.
Milligan, C., Littlejohn, A., & Margaryan, A. (2014). Workplace learning in informal networks. Reusing Open Resources: Learning in Open Networks for Work, Life and Education, 93.
Moreno, R., & Mayer, R. E. (2000). Engaging students in active learning: The case for personalized multimedia messages. Journal of educational psychology, 92(4), 724-733.
Sasso, L., Bagnasco, A., Aleo, G., Zanini, M., Catania, G., Pozzi, F., Rodrigues, C., Alvino, S., Musian, D., Roba, I., Turunen, H., Popa, A., Vicente, M., Papathanasiou, I.V., Fradelos, E.C., Kastanidou, S., Kleisiaris, C., Evangelidou, E.S., Daglas, A., Stavropoulos, K. (2018). Report on the definition of a Professional Profile for the Family and Community Nurse (FCN). ENhANCE Project Deliverable D2.2. URL: https://www.enhance-fcn.eu/download/2602/
Yu, D., Zhang, Y., Xu, Y., Wu, J., & Wang, C. (2013). Improvement in critical thinking dispositions of undergraduate nursing students through problem-based learning: a crossover-experimental study. Journal of Nursing Education, 52(10), 574-581.
Zimmerman, B. J. (2002). Becoming a self-regulated learner: An overview. Theory into practice, 41(2), 64-70.