Vol 8 (2020): Learning, Competencies and Human Resources
EMEMITALIA2019 Peer Reviewed Papers
Un sistema di supporto alle decisioni dei dirigenti scolastici realizzato personalizzando la piattaforma Moodle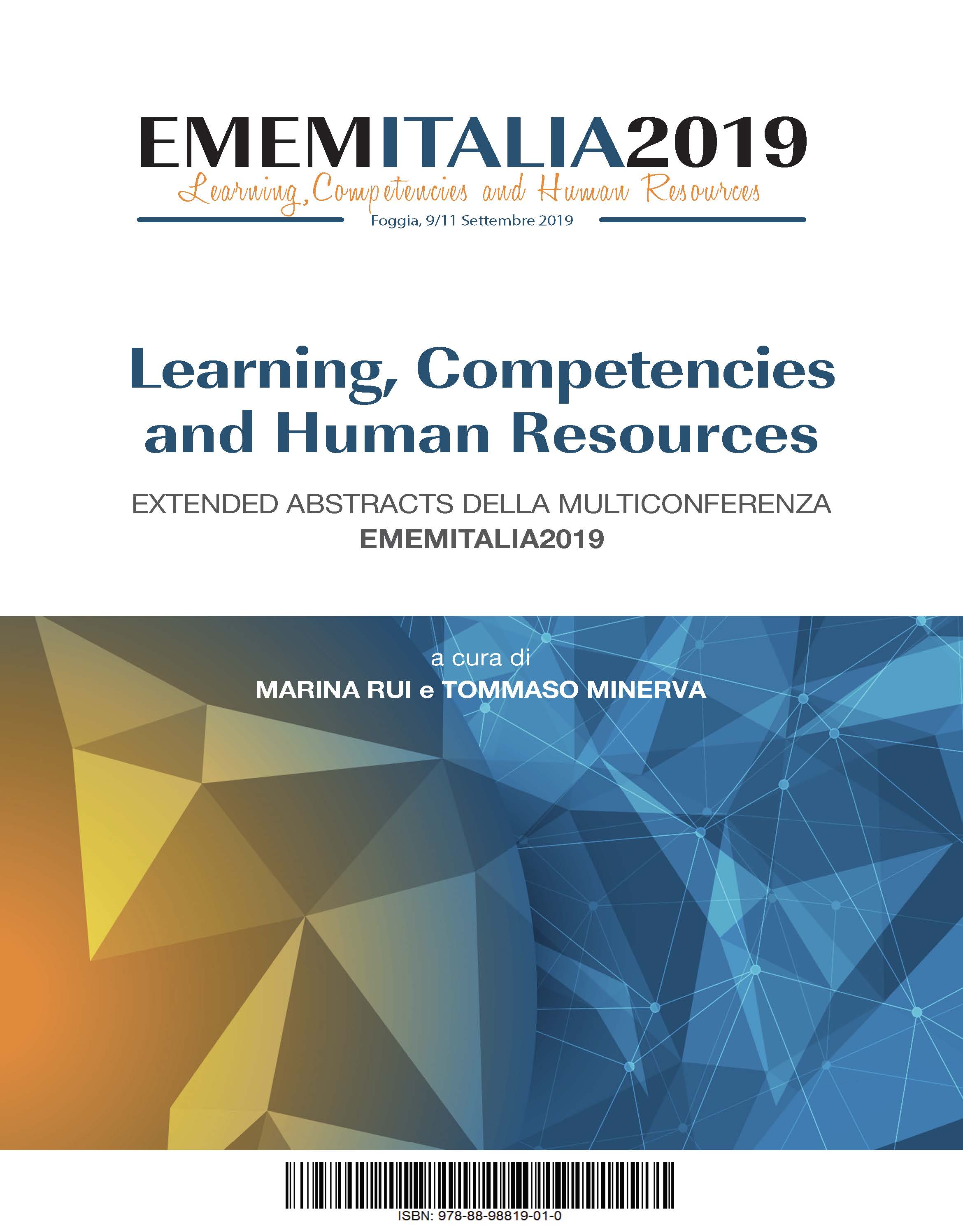 Published
January 15, 2020
Keywords
Moodle

,

decision support system

,

competenze

,

scuola

,

e-learning
How to Cite
Miranda, S., & Marzano, A. (2020). Un sistema di supporto alle decisioni dei dirigenti scolastici realizzato personalizzando la piattaforma Moodle. Reports on E-Learning, Media and Education Meetings, 8(1), 158-165. Retrieved from https://www.je-lks.org/ojs/index.php/R-EMEM/article/view/1135092
Copyright (c) 2020 Reports on E-learning, Media and Education Meetings
This work is licensed under a Creative Commons Attribution-NonCommercial-ShareAlike 4.0 International License.
Abstract
In questo articolo viene descritto un sistema di supporto alle decisioni per i dirigenti scolastici realizzato impiegando come base la piattaforma Moodle ed effettuando integrazioni e personalizzazioni tali da trasformarla in un sistema che oltre a consentire la gestione e l'erogazione di percorsi formativi possa essere di supporto ai processi di una istituzione scolastica. Sono state delineate delle idee di gestione delle competenze, sono state descritte le funzionalità specifiche che possano venire incontro alle esigenze dei dirigenti, sono state proposte delle idee innovative basate sulla gestione delle competenze per l'allocazione del personale sulle attività e sulla programmazione degli interventi di aggiornamento professionale. L'idea progettuale è stata valutata attraverso un confronto con alcuni dirigenti scolastici della Regione Campania e il positivo riscontro è incoraggiante per l'avvio di una sperimentazione sul campo.
References
Breiter, A., & Light, D. (2006). Data for School Improvement: Factors for Designing Effective Information Systems to Support Decision-Making in Schools. Educational Technology & Society, 9(3), 206-217.
Cavalli, Alessandro; Fischer, Lorenzo (2011) DIRIGERE LE SCUOLE OGGI Un'indagine della Fondazione per la Scuola realizzata dall'Istituto IARD
Claudiu, Brandas & Didraga, Otniel. (2014). COLLABORATIVE DECISION SUPPORT SYSTEMS: CLOUD, MOBILE AND SOCIAL APPROACHES.
Daniel, B. (2015). Big Data And Analytics In Higher Education: Opportunities And Challenges. British Journal of Educational Technology.
ET2020, (2019) European ideas for better learning: the governance of school education systems. The final report and thematic outputs of the ET2020 Working Group Schools
Kaufman, T. E., Graham, C. R., Picciano, A. G., Popham, J. A., & Wiley, D. (2014). Data-Driven Decision Making in the K-12 Classroom. In J.M. Spector, M.D. Merrill, J. Elen, & M.J. Bishop, (Eds.) Handbook of Research on Educational Communications and Technology (pp. 337-346). New York: Springer.
Lai, M.K., & Schildkamp, K. (2013). Data-based Decision Making: An Overview. In K. Schildkamp et al. (eds.), Data-based Decision Making in Education (pp. 9-21).
Legrottaglie, S., & Ligorio, M.B. (2014). L'uso delle tecnologie a scuola: il punto di vista dei docenti. TD Tecnologie Didattiche, 22(3), 183-190.
Long, P., & Siemens, G. (2011). Penetrating The Fog: Analytics In Learning And Education. Educause Review, 46(5), 30-32.
Mandinach, E. (2012). A Perfect Time for Data Use: Using Data-Driven Decision Making to Inform Practice. Educational Psychologist, 47(2), 71–85.
Miller, Matthew & McGuire, Kerry & M. Feigh, Karen. (2017). Decision Support System Requirements Definition for Human Extravehicular Activity Based on Cognitive Work Analysis. Journal of Cognitive Engineering and Decision Making. 11. 10.1177/1555343416672112.
Miranda, S.; Orciuoli, F.; Loia, V.; Sampson, D. (2017) An ontology-based model for competence management, Data and Knowledge Engineering, 107, pp. 51-66. DOI: http://dx.doi.org/10.1016/j.datak.2016.12.001
Paletta, Angelo (2015) Dirigenti scolastici leader per l'apprendimento, Report IPRASE - Istituto provinciale per la ricerca e la sperimentazione educativa
Pistilli, M. D., Willis III, J. E., & Campbell, J. P. (2014). Analytics Through an Institutional Lens: Definition, Theory, Design, and Impact. In Learning Analytics (pp. 79-102). Springer New York.
Schildkamp, K., & Kuiper, W. (2010). Data-informed curriculum reform: Which data, what purposes, and promoting and hindering factors. Teaching and Teacher Education, 26(3), 482-496.
Schildkamp, K., Karbautzki, L., & Vanhoof, J. (2014). Exploring data use practices around Europe: Identifying enablers and barriers. Studies in educational evaluation, 42, 15-24.
Sergis, S. & Sampson, D.G. (2014). From Teachers" to Schools" ICT Competence Profiles. In D.G. Sampson, D. Ifenthaler, J.M. Spector & P. Isaias (Eds.). Digital Systems for Open Access to Formal and Informal Learning (pp. 307-327). Springer International Publishing.
Sergis, Stylianos; Sampson, Demetrios. (2015). School Analytics: A Framework for Supporting School Complexity Leadership. 10.1007/978-3-319-30295-9_6.
Snyder, S. (2013). The Simple, the Complicated, and the Complex: Educational Reform Through the Lens of Complexity Theory. OECD Education Working Papers, 96, OECD Publishing.
Van der Kleij, F. M., Vermeulen, J. A., Schildkamp, K., & Eggen, T. J. (2015). Integrating data-based decision making, Assessment for Learning and diagnostic testing in formative assessment. Assessment in Education: Principles, Policy & Practice, (ahead-of-print), 1-20.