Vol 8 (2020): Learning, Competencies and Human Resources
EMEMITALIA2019 Peer Reviewed Papers
Una esperienza di digital curatorship in un contesto multiculturale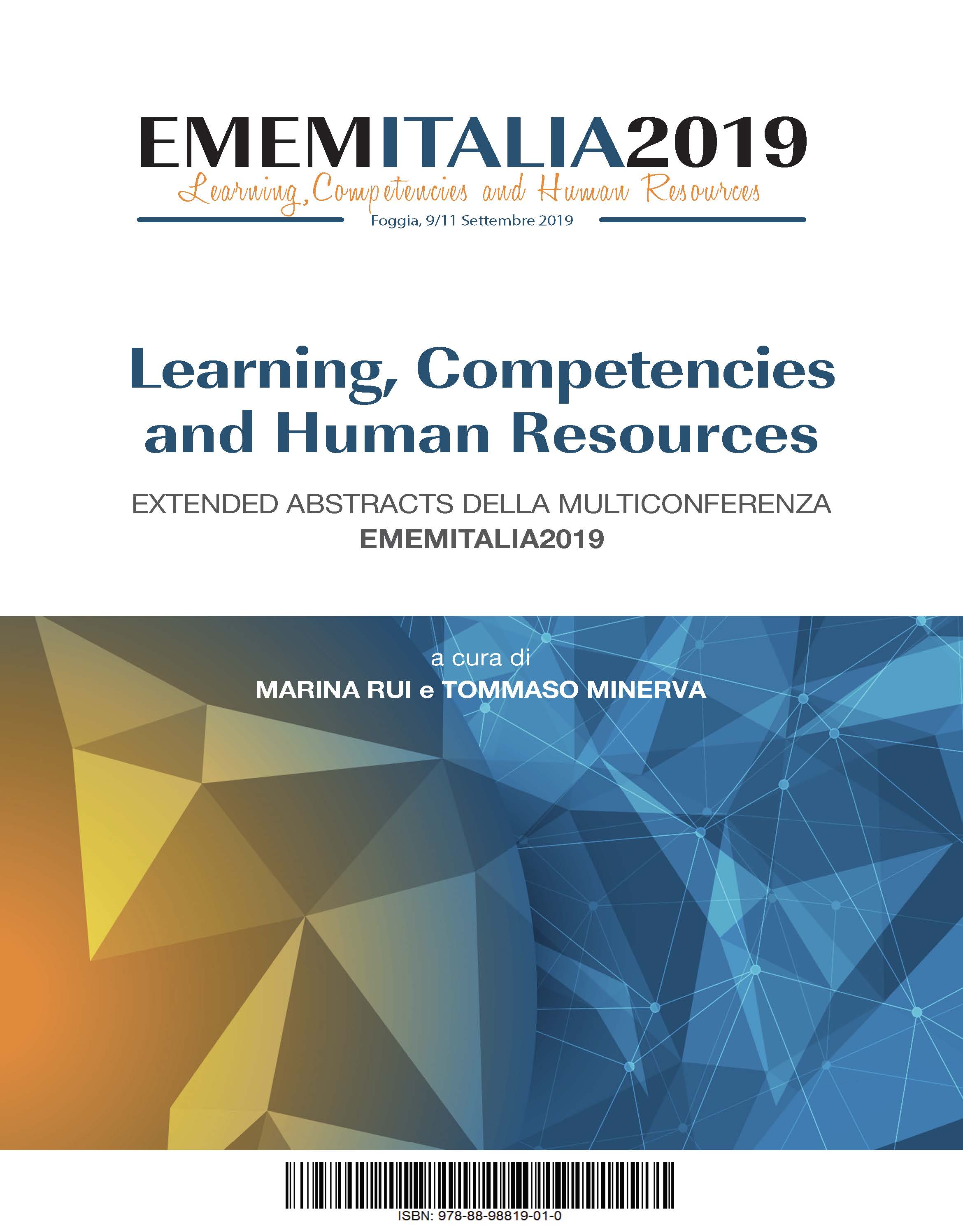 Published
January 14, 2020
Keywords
Digital curatorship

,

Competenze digitali

,

Musei

,

Patrimonio culturale
How to Cite
Perrella, S. (2020). Una esperienza di digital curatorship in un contesto multiculturale . Reports on E-Learning, Media and Education Meetings, 8(1), 134-139. Retrieved from https://www.je-lks.org/ojs/index.php/R-EMEM/article/view/1135098
Copyright (c) 2020 Reports on E-learning, Media and Education Meetings
This work is licensed under a Creative Commons Attribution-NonCommercial-ShareAlike 4.0 International License.
Abstract
Il Museo Digitale, inteso come zona di democratizzazione nella quale relazioni di alterità e costruzioni di identità sono prodotte, cioè, forme di riconoscimento delle affiliazioni emotive locali, regionali e nazionali, per sua stessa natura, è anche facilmente accessibile, dinamico e interattivo. Si tratta di un dispositivo che rispecchia la vita quotidiana e la cultura delle diverse comunità, minoranze etniche e gruppi emarginati.
Il presente contributo, partendo da una panoramica sulle funzioni fondamentali di salvaguardia del museo contemporaneo, attraverso un'analisi degli attuali bisogni in termini di competenze e risorse umane, illustra un'esperienza di digital curatorship museale all'interno di un contesto multiculturale, con la presenza di minoranze e differenze etniche. Il caso di studio, in particolare, riguarda un piccolo museo situato in un'Università pubblica nel sud del Brasile. Nello specifico, si propone un esempio di collaborazione all'interno di un gruppo di ricerca multiculturale, con il supporto di un Digital Strategy Manager esterno, con il fine di proporre un modello interattivo e digitale di fruizione museale.
References
Bollini, L. (2015). Il museo 3.0. Percorsi, frammenti, reti e la openness narrativa del digitale.
Homem, P. M., Remelgado, P., & Medina, S. (2017). Museum professionals in the digital era: agents of change and innovation.
ICOM Italia (2017), Professionalità e funzioni essenziali del museo alla luce della riforma dei musei statali. Quaderno 2, Novembre 2017.
Piacentini T., (2010). Brincadeiras infantis na Ilha de Santa Catarina. Florianópolis: Fundação Franklin Cascaes.
Simon, N. (2010). The participatory museum. Museum 2.0.
Thompson, S. (2010). Web 2.0 technologies and the museum. In Emerging Digital Spaces in Contemporary Society (pp. 56-58). Palgrave Macmillan, London.