Vol 8 (2020): Learning, Competencies and Human Resources
EMEMITALIA2019 Peer Reviewed Papers
Formare i futuri docenti alla competenza digitale: il Progetto ITELab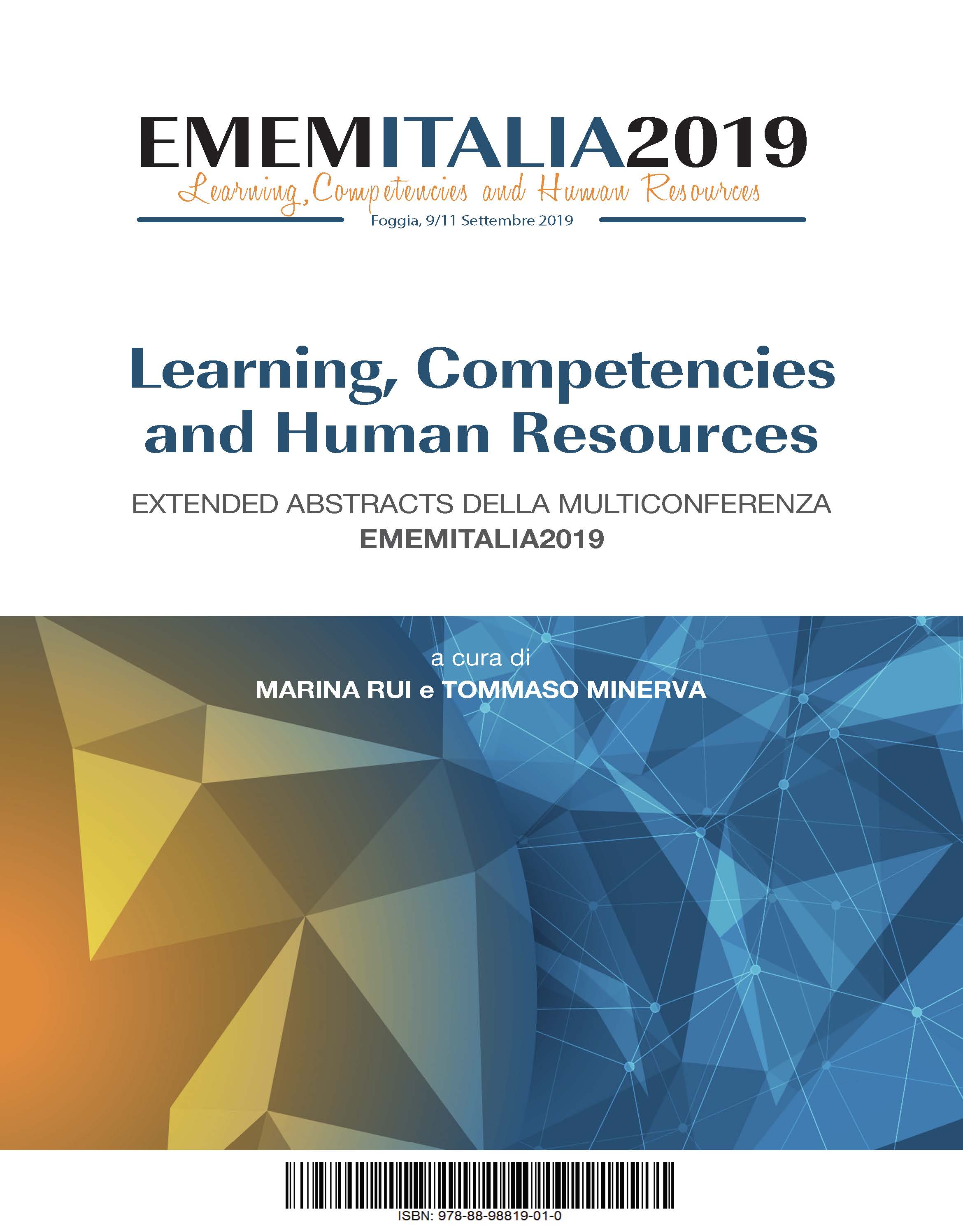 Published
January 13, 2020
Keywords
Formazione

,

Insegnanti

,

MOOC

,

Tecnologie Educative

,

Competenza Digitale
How to Cite
Falcinelli, F., De Santis, M., Signorelli, A., & Cimichella, M. (2020). Formare i futuri docenti alla competenza digitale: il Progetto ITELab. Reports on E-Learning, Media and Education Meetings, 8(1), 46-51. Retrieved from https://www.je-lks.org/ojs/index.php/R-EMEM/article/view/1135106
Copyright (c) 2020 Reports on E-learning, Media and Education Meetings
This work is licensed under a Creative Commons Attribution-NonCommercial-ShareAlike 4.0 International License.
Abstract
Il contributo presenta l'esperienza di acquisizione di competenze digitali dei futuri insegnanti di scuola primaria dell'Università di Perugia nel primo studio pilota del progetto europeo ITELab (Initial Teacher Education Lab).
References
Bonaiuti, G. (2014). Le strategie didattiche. Roma: Carocci.
Calvani, A. (2011). Principi dell'istruzione e strategie per insegnare. Criteri per una didattica efficace. Roma: Carocci.
Castoldi, M. (2011). Progettare per competenze. Percorsi e Strumenti. Roma: Carocci.
Cerri, R. (2012) (Ed). L'evento didattico. Dinamiche e processi. Roma: Carocci
De Santis, M. (2016). Il laboratorio. Per una didattica ludica della formazione. Roma: Aracne.
Frabboni, F. (2005). Il laboratorio per imparare ad imparare. Napoli: Tecnodid.
Gardner, H., Davis, K. (2014). Generazione App, Feltrinelli, Milano.
Gherardi, V. (2013). Metodologie e didattiche attive. Prospettive teoriche e prospettive operative. Roma: Aracne.
Korthagen, F.A.J. (2004). In search of the essence of a good teacher: towards a more holistic approach in teacher education. Teaching and Teacher Education, 20(1), pp. 77–97.
Lave, J., & Wenger, E. (1991). Situated learning: Legitimate peripheral participation. Cambridge: Cambridge University Press.
Morin, E. (2000). La testa ben fatta. Milano: Cortina.
Mortari, L. (2013). Cultura della ricerca e pedagogia. Prospettive epistemiche. Roma: Carocci.
Papert, S. (1996). The Connected family. Bridging the Digital Generation Gap, Longstreet Press, Atlanta.
Tessaro, F. (2002). Metodologia e didattica dell'insegnamento secondario. Roma: Armando.