Vol 8 (2020): Learning, Competencies and Human Resources
EMEMITALIA2019 Peer Reviewed Papers
Il Service Learning per promuovere competenze professionali e di cittadinanza: il caso dell'ISI Sandro Pertini di Lucca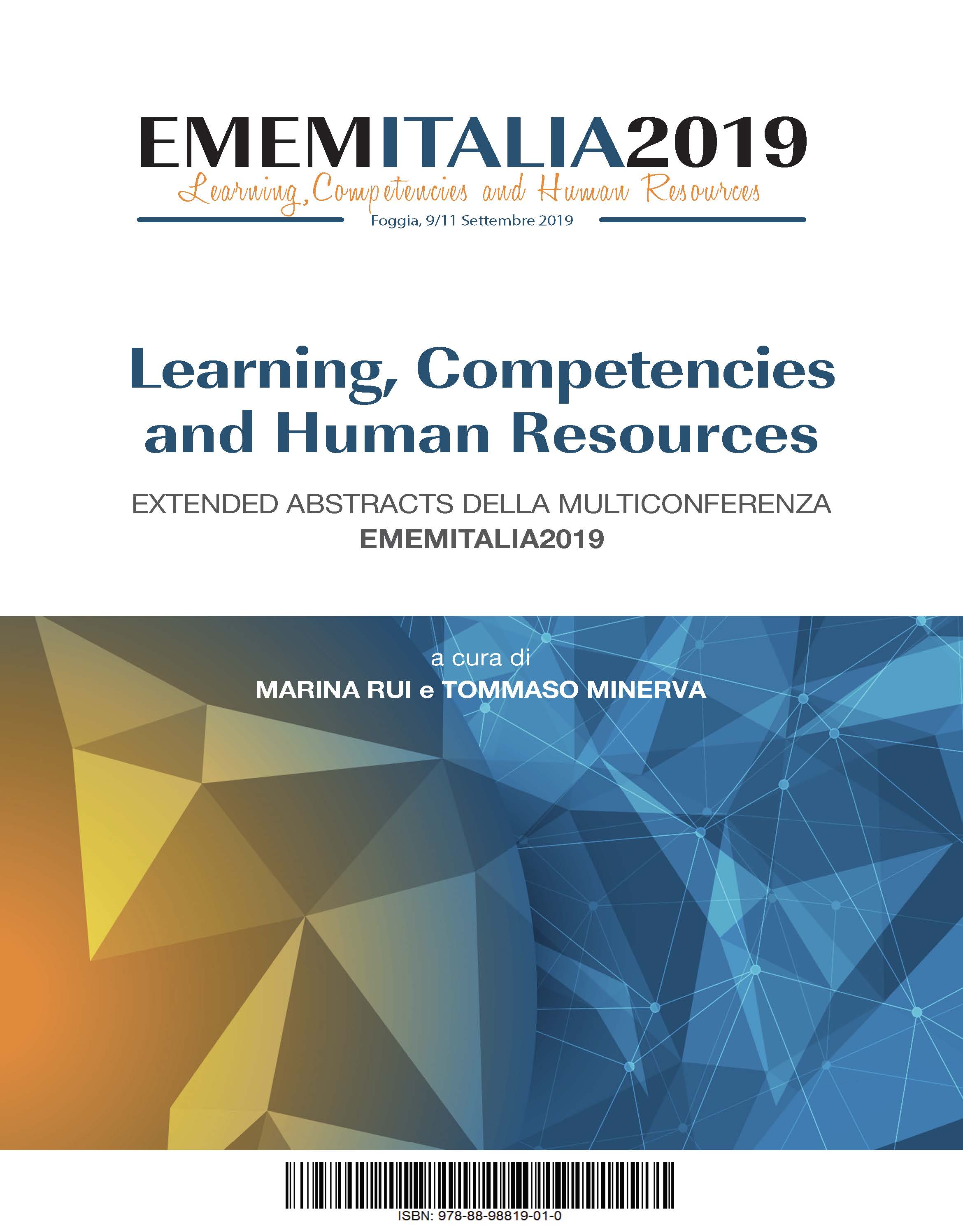 Keywords
Service Learning

,

Cittadinanza Attiva

,

Competenze Professionali

,

Studio di Caso
How to Cite
Orlandini, L., Giunti, C., Chipa, S., & Tortoli, L. (2020). Il Service Learning per promuovere competenze professionali e di cittadinanza: il caso dell'ISI Sandro Pertini di Lucca. Reports on E-Learning, Media and Education Meetings, 8(1), 267-273. Retrieved from https://www.je-lks.org/ojs/index.php/R-EMEM/article/view/1135151
Copyright (c) 2020 Reports on E-learning, Media and Education Meetings
This work is licensed under a Creative Commons Attribution-NonCommercial-ShareAlike 4.0 International License.
Abstract
Il contributo illustra i primi esiti di uno studio di caso realizzato per descrivere l'esperienza di Service Learning (SL) della scuola secondaria di secondo grado ISI "Sandro Pertini" di Lucca nell'ambito delle attività del Movimento delle Avanguardie educative (AE). Per lo studio di caso sono stati utilizzati strumenti qualitativi di raccolta dati: analisi documentale, interviste semi- strutturate, focus group, schede di narrazione. Sono stati coinvolti: la dirigente scolastica, i docenti referenti, gli studenti e i soggetti del territorio di riferimento. La scuola ha realizzato un'azione di SL finalizzata alla valorizzazione del patrimonio storico e culturale della città di Lucca. Una delle azioni ha previsto l'apertura di un Punto di informazione turistica in cui gli studenti esercitano il ruolo di guide turistiche. I risultati mostrano che l'esperienza di SL è stata l'occasione per avviare un percorso di trasformazione della progettazione delle attività didattiche, degli ambienti di apprendimento e dei modelli di organizzazione scolastica, in linea con il Movimento delle AE. I dati raccolti hanno anche consentito di comprendere la significatività dell'esperienza svolta dagli studenti sulla base delle dimensioni di qualità educativa di un percorso di SL individuate in letteratura.
References
Billing. S. H. (2000). The Effects of Service Learning. In Service Learning, General, n. 42. Disponibile in: http://digitalcommons.unomaha.edu/slceslgen/42
Clandinin, D. J. (2007). Handbook of narrative inquiry: Mapping a methodology. Thousand Oaks (CA): Sage Publications.
Commissione Europea (2016). Comunicazione della Commissione al Parlamento Europeo, al Consiglio, al Comitato Economico e Sociale Europeo e al Comitato delle Regioni. Una Nuova Agenda per le competenze per l'Europa. Lavorare insieme per promuovere il capitale umano, l'occupabilità e la competitività. Disponibile in: https://eur-lex.europa.eu/legal-content/IT/TXT/PDF/?uri=CELEX:52016DC0381&from=EN
Consiglio Unione Europea (2018). Raccomandazione del Consiglio del 22 maggio 2018 relativa alle competenze chiave per l'apprendimento permanente. Disponibile in: https://eur-lex.europa.eu/legal-content/IT/TXT/PDF/?uri=CELEX:32018H0604(01)&from=EN
Dewey, J. (1972). Democrazia e educazione. Firenze: La Nuova Italia (ed. orig. 1916).
Excelsior (2018). I programmi occupazionali delle imprese rilevati dal sistema delle Camere di Commercio. Disponibile in: https://excelsior.unioncamere.net/documenti/bollettiniyear2017/doc.php?id=252
Fiorin, I. (2016). Oltre l'aula. La proposta pedagogica del Service Learning. Milano: Mondadori Università.
Freire, P. (2002). La pedagogia degli oppressi. (trd.it) Torino: Edizioni Gruppo Abele (ed.orig. 1970).
Furco, A. (1996). Service-Learning: A BalancedApproach to Experiential Education. In Corporation for National Service (ed.), Expanding Boundaries: Serving and Learning. Columbia, Md.: Cooperative Education Association.
Furco, A.; Billig, S. H. (2002). Service Learning: The Essence of the Pedagogy. CT: IAP.
Indire (2018). Linee guida per l'implementazione dell'idea Dentro/fuori la scuola - Service Learning. Disponibile in: http://pheegaro.indire.it/uploads/attachments/1980.pdf
Legge 13 luglio 2015, n. 107. La Buona Scuola. Disponibile in: https://www.gazzettaufficiale.it/eli/id/2015/07/15/15G00122/sg
MIUR (2018). Una via italiana per il Service Learning. Disponibile in: http://www.miur.gov.it/-/una- via-italiana-per-il-service-learning
Mortari, L. (2008). Educare alla cittadinanza partecipata. Milano: Bruno Mondadori.
OECD (2017).Education at a Glance 2017: OECD Indicators. OECD Publishing. Paris: OECD Publishing. Disponibile in:https://doi.org/10.1787/eag-2017-en
OECD (2018). OECD SkillsStrategyDiagnostic Report: Italy 2017, OECD SkillsStudies. Paris: OECD Publishing. Disponibile in: https://www.oecd.org/italy/oecd-skills-strategy-diagnostic-report-italy- 2017-9789264298644-en.htm
Selmo, L. (2014). Democrazia, impegno ed educazione. La metodologia del service-learning. Milano: Unicopli.
Tapia, M. N. (2006). Educazione e solidarietà. La pedagogia dell'apprendimento-servizio. Roma: Città Nuova Editrice.
Trinchero, R. (2004). I metodi della ricerca educativa. Roma: Laterza.
Clandinin, D.J. Huber, J. (2010). Narrative inquiry. In P. Peterson, E. Baker, & B. McGaw. International Encyclopedia of Education, pp. 436-441. Disponibile in: https://www.sciencedirect.com/science/article/pii/B9780080448947013877
Unesco (1996). Treasurewithin. Report to UNESCO o f the International Commission on Education for the Twenty-first Century. Disponibile in: http://unesdoc.unesco.org/images/0010/001095/109590eo.pdf
Unesco (2018). Educazione alla cittadinanza globale: temi e obiettivi di apprendimento. Disponibile in: https://unesdoc.unesco.org/ark:/48223/pf0000261836
Vigilante, A. (2014). Il Service Learning: come integrare apprendimento e impegno sociale.
Educazione Democratica. Rivista di pedagogia politica, 4(7), 155-193.