Vol 8 (2020): Learning, Competencies and Human Resources
EMEMITALIA2019 Peer Reviewed Papers
Utilizzo di un MOOC in un corso universitario: studio dell'impatto in termini di apprendimento e gradimento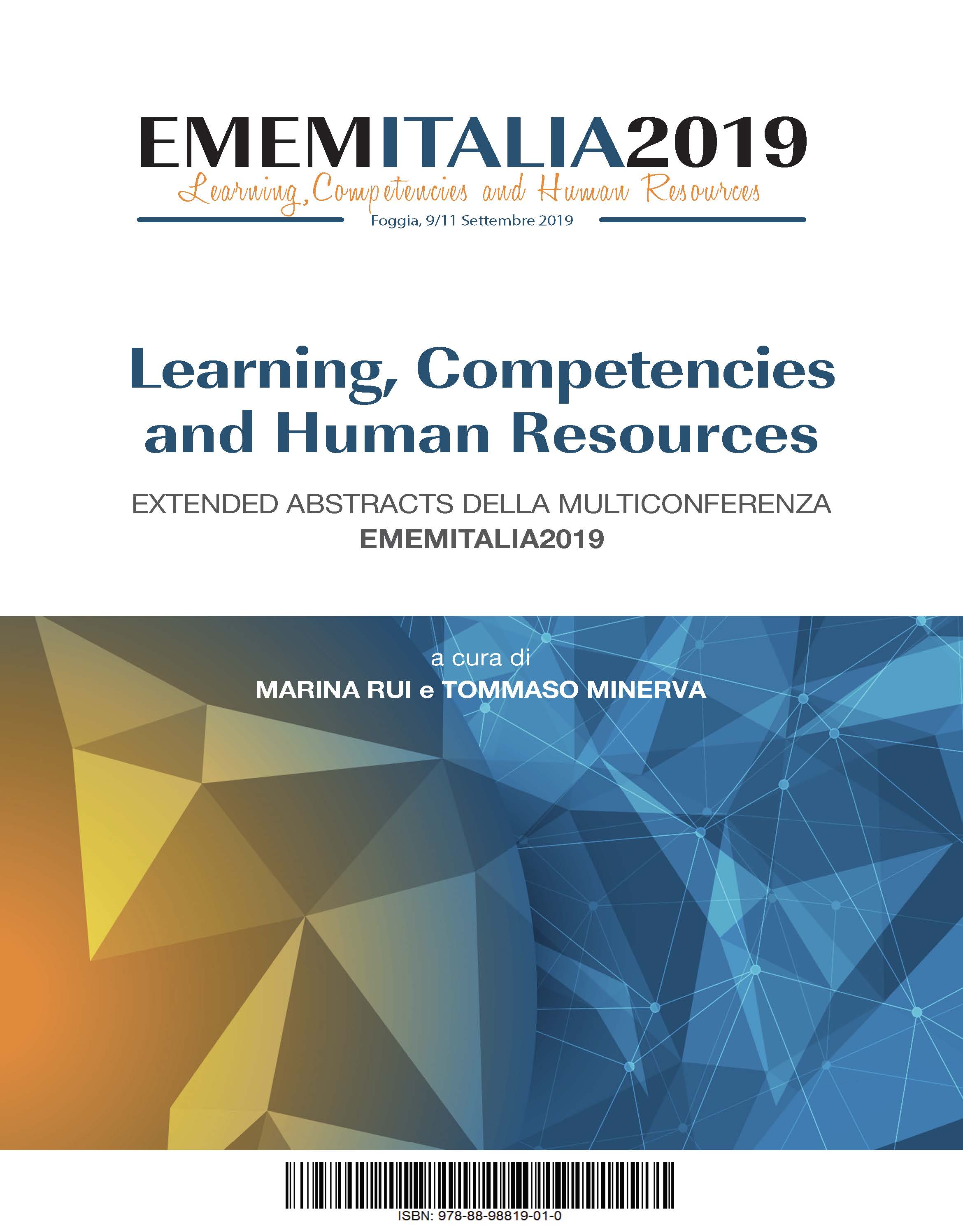 Published
January 15, 2020
Keywords
MOOC

,

Blended Learning

,

Corsi di Laurea

,

Apprendimento

,

Gradimento
How to Cite
Guelfi, M. R., Masoni, M., Shtylla, J., & Formiconi, A. R. (2020). Utilizzo di un MOOC in un corso universitario: studio dell'impatto in termini di apprendimento e gradimento. Reports on E-Learning, Media and Education Meetings, 8(1), 166-171. Retrieved from https://www.je-lks.org/ojs/index.php/R-EMEM/article/view/1135208
Copyright (c) 2020 Reports on E-learning, Media and Education Meetings
This work is licensed under a Creative Commons Attribution-NonCommercial-ShareAlike 4.0 International License.
Abstract
I MOOC, acronimo di Massive Online Open Course, sono corsi gratuiti a cui possono iscriversi un elevato numero di utenti. Essi permettono una maggiore democratizzazione della formazione, facilitano la diffusione della cultura e consentono di rispondere ad una domanda di formazione sempre più ampia e diversificata, spesso difficilmente intercettabile dalle università convenzionali. I principali Atenei internazionali sono presenti con propri corsi nelle principali piattaforme MOOC.
Il contributo descrive una sperimentazione condotta nell'a.a. 2018/19 consistente nell'introdurre in un Corso universitario la fruizione di un MOOC. Obiettivo del lavoro è quello di studiare l'impatto sia in termini di apprendimento che di gradimento dell'uso del MOOC in sostituzione alle lezioni frontali.
I risultati quantitativi ottenuti dagli studenti nelle attività valutative relative agli argomenti trattati nel MOOC e i dati qualitativi raccolti con un questionario anonimo di gradimento hanno evidenziato come le metodologie didattiche siano risultate efficaci e pertanto consentono di affermare che i MOOC potrebbero essere utilmente inseriti nei percorsi di studio universitari.
References
Gooding, I., Klaas, B., Yager, J.D., & Kanchanaraksa, S. (2013). Massive Open Online Courses in Public Health. Frontiers in Public Health, (1), p. 59.
Guelfi, M.R., Masoni, M., Shtylla, J., & Formiconi, A.R. (2019). Innovazione e ICT nell'insegnamento di Informatica del Corso di Laurea in Medicina e Chirurgia Proceedings Multiconferenza EDEN 2018 pp. 710-718, Genova.
Lin, J., & Cantoni, L. (2017). Assessing the Performance of a Tourism MOOC Using the Kirkpatrick Model: A Supplier's Point of View Chapter from book Information and Communication Technologies in Tourism (pp. 129-142).